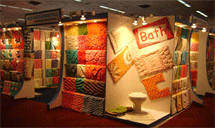 OUR STAND AT FRANKFURT FAIR

Delite International established in 1976, by Mr. Pyare lal Tayal, is a leading player in home furnishings with a presence rending from luxury to mass-market as well as custom solutions. The company, through years of experiences, has garnered a reputation for good quality and fine design.

Delite International has always pushed the boundaries of design and aesthetics in a sophisticated merger of modernity and tradition. Through its four decades of operations the company has engaged with the very best of International labels across the globe.

Our Coverage


We manufacture and export a wide range of products in home textiles and furnishings to almost all-Important markets In the world. ....





Design & Development


All the products that are designed, developed and created by us have an inevitable appeal and are unique in appearance. ....




Products Range


A leading manufacturer exporter of home textile and furnishings items like Rug, Bathmats, Bedcovers, Carpets, cushions etc. to almost all-Important markets In the world,..


Quality Control


Quality has always been a prime considration for the comapny operation as it does in the premium end of the market it could not have been any other way....